Go Back
Claire Edwards ~ GCCFSA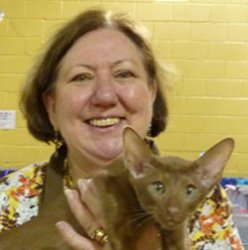 ACF Panel: 2010, 2014
International: Yes
7/51 Eve Road
Bellevue Heights SA 5050
Phone: 08 8271 5317
Mob:

Airport: Adelaide (ADL)
Back in the early 1990's I had a "reading" done and I was told..."I can see you as an old lady with a cat upon your lap". Well, I can live with that! It does explain my love of cats from a very young age. I started showing my two brown Burmese in 1985 and went onto breeding Burmese in 1988 under the Besakih prefix. I have recently taken a break from breeding but I am still actively showing my Burmese.
After stewarding for years I was invited to become a judge and in 2016 I qualified as an All Breeds Judge. I have judged extensively in Australia and in New Zealand. At the Royal Shows in Adelaide and Melbourne I have taken on the role of Breed advisor which is a service to the public in caring for cats and advice on breeds suitable for a family cat. The feline world has a special fascination for me and I enjoy sharing the knowledge , background and folklore of all the different cats , with all people. I find that as the variety of cat breeds expand , one can never stop learning.
My background is in Art and all its many facets: from portraits to designing fashion, needlework to creating dolls, bears and animals, designing and making precious jewellery. As yet, I have yet to paint my cats but I'm sure it will happen when I get the time.

INTERNATIONAL ASSIGNMENTS
2017 New Zealand