Go Back
Cindy Grimes ~ GCCFV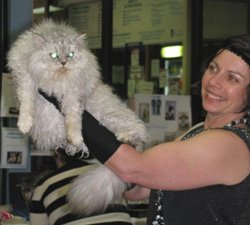 ACF Panel: 2014
International: No
PO Box 48
Narre Warren North VIC 3805
Phone: 0418 667 529
Mob: 0418 667 529

Airport: Melbourne (MEL)
I have always had a cat in my life since I was 2 ½ years old & they have been my best friends.

I became involved in the cat fancy since 1997 when I started showing desexed Spotted Mist cats (aka Australian Mist) as they were known then. I bred & showed Australian Mists from 1998 to 2008 under the Djindi prefix. In 2004 I got captivated by the beautiful soft curly coat of the Selkirk Rex & commenced breeding them in 2005 under the prefix Purrcurls. I have also bred Exotics/ Persians & British Shorthair litters under the Djindi prefix.

I have been involved with all aspects of show organisation & I have been a qualified steward since 1999. I have been a committee member & assistant secretary of the GCCFV from 2008 till April 2014
& I have been the Group3 Registrar since 2010.

I commenced an All Shorthair Judge's course with the Group 3 section starting in October 2008 & completing in November 2010, then the Group 2 section went from March 2011 to November 2011. I qualified as an Open Judge in June 2014 & am now listed on the ACF National Panel of Judges.