Go Back
Margaret Steed ~ CVI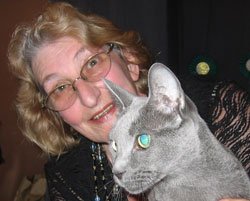 ACF Panel:
International: No
15 Greenwich Grange
Coronet Bay VIC 3984
Phone: 0400 134 328
Mob:

Airport: Melbourne (MEL)
I was destined to be a cat lover, both of my parents having had cats throughout their lives. I had a large black and white domestic through my childhood, who lived to 17. My first pedigreed cat was a dear little apple headed Siamese. I was so convinced that she was the most perfect cat ever that I took her to a cat show, and, with ego deflated, my learning process began. I was in awe of the ability of judges to assess each exhibit and my goal was set to become one of their ranks. Forty years later, and having shared my life with Siamese, Russians, Australian Mists and Somalis, breeding and showing their lovely kittens, I have also progressed through the various levels of show management to achieve my goal of being an All Breeds judge, and Tutor Judge. I have judged in all Australian States, and New Zealand.
I still find time to enjoy a varied life. My working life as an accountant closed in 2013, and I did not realise that retirement could be so time consuming and rewarding. My days are spent gardening, and enjoying the company of my cats. I have family and friends interstate to visit. I have been an Opera Australia subscriber for 35 years, am also subscriber to Australian Ballet, and enjoy most other types of music. My evenings are generally spent doing embroidery (cat designs, of course). I am also a very keen reader, particularly enjoying current affairs, history and biographies. I love my vegetable garden, and sharing its produce with neighbours.
My mantra for life is "Learn something new every day"